Historical Background
This traditional red dairy barn was built in the early 1900s and was originally part of the Gravit family farm that settled here in 1850. It has a gambrel roof and measures 36' x 72' and is 42' high at the peak.
The Mandana Barn.
The barn was acquired by Tim and Heather Carroll in 2000. By that time, the years had taken their toll. The roof had several major leaks including a couple of areas where no roofing remained.
Three quarters of the stone foundation had crumbled along with the walls they had supported. The entire structure was literally heading down hill.
The Mandana Barn in 2000 before restoration.
Restoration of the Barn
In the spring of 2001 a major restoration and preservation of the barn was started. RAR and Associates of Marcellus was selected as the general contractor for the project.
The first task was to jack and level the entire structure. During the jacking, temporary beams were installed to support the barn's weight-bearing walls. The old walls were then removed and the original material was salvaged when possible.
Excavation of western wall in 2003.
With the walls removed, excavation could begin on the crumbled stone foundation. Excavation Plus, Inc. (EPI) of Skaneateles was the subcontractor used for the excavation work. Every effort was made to preserve as much of the original stone foundation, but in some areas this was not possible and a new block foundation was installed.
The exterior walls were then rebuilt. New center-bead tongue and groove siding was installed that matched the original material when salvaged siding was not available.
Next came the repair of the roof. A galvanized steel roof was installed by Ernest Martin of Waterloo. The new roof matched the original roofing material that was still found on the southern half of the barn.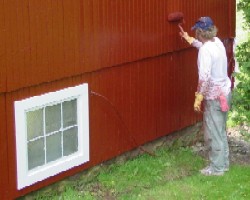 "The Hawk" painting in 2004.
In 2004 the painting began in conjunction with the repair of additional siding. Bazydlo Family Painting undertook this laborious project.
The final phase of the project includes replacing the floor on the lower level which originally housed the dairy cows.
This entire restoration project would not have been possible without the hard work of friends and family. A very special thank you to Bob Rice and Tom Bazydlo. Without your help, this project would not be where it is today.
Thanks also to those that have made generous donations to the restoration.